BIOMOLECULAR NMR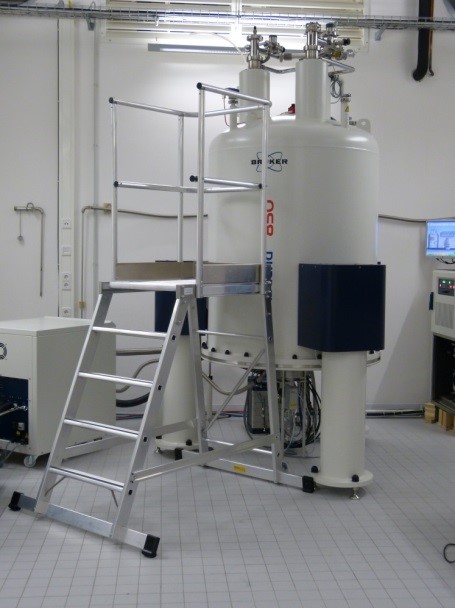 The BMWZ NMR facility comprises two high-field Bruker Avance III HD spectrometers operating at proton frequencies of 850 MHz and 600 MHz.
The 850 MHz magnet is sub-cooled to a temperature of 2 K, and the spectrometer is equipped with a solution-state triple-resonance HCN helium-cooled cryogenic probe-head for maximum sensitivity.
The 600 MHz spectrometer is equipped with probe-heads for both solution- and solid-state NMR. The solution-state probe-heads include a nitrogen-cooled HCN cryogenic probe-head for high-sensitivity, and also triple-resonance HCF and quad-resonance HCNP room-temperature probe-heads providing 19F and 31P capabilities, respectively. For solid-state experiments, there is a 3.2-mm CNH MAS (magic-angle-spinning) probe-head for 13C-detection (rotor spinning-speeds up to 24 kHz), and a 1.3-mm HCN ultra-fast MAS probe-head capable of spinning-speeds up to 67 kHz for advanced 1H-detected biomolecular solid-state experiments.
INSECT CELL CULTURE
The insect cell culture lab was set up in 2017 for heterologous expression of proteins in Sf9 (Sprodoptera frugiperda) cells, an eukaryotic cell expression system. To introduce the genes of interest into these cells we use the Baculoviral Expression System, a standard method in insect cell culture labs.
The cell culture is equipped with an inversed light microscope (Zeiss), a cell incubator, two shakers (Innova 44) for liquid cultures, a tabletop centrifuge, a fridge/freezer combination and a clean bench for sterile working. The room is only used for cell culture work to lower the risk of contaminations.
FERMENTATION AND MICROBIOLOGY
The BMWZ hosts two fermentation rooms for growing microorganisms: one for S1 and one for S2 projects. Each room is equipped with six shakers (Innova 44), which can be booked by our online booking system. They also contain two clean benches, several incubators, different sized shaking platforms and a photometer. There is also a table top centrifuge in the S2 fermentation room.
BIOPHYSICAL CHARACTERIZATION OF PROTEINS
The biophysics room of the BMWZ focusses on the characterization of recombinantly expressed proteins. For purification of these proteins the room offers two Äkta Pure Systems incl. fraction collectors and different columns for chromatography. For further analysis of the purified proteins the room provides an Isothermal calorimeter, a table-top ultracentrifuge and fluorescence microarray readers. The BMWZ provides additionally equipment like a Gel Documentation Instrument, a micro volume spectro-photometer, a fluorescence Microscope and an area for preparation of gels for Protein- or DNA-analyses.
MEDIA KITCHEN
The media kitchen is one of the most important facilities of the BMWZ and is run by our team of technical assistants. They produce on a daily basis media and solutions for our in-house store, autoclave lab equipment and solutions/media for sterile usage, sterilize all the S1 and S2 waste of the BMWZ and provide the scientists with ordered equipment and media.
The media kitchen hosts two autoclaves (Systec, 150 L), two dish washers, a drying oven, an ice machine, a water-pure unit, scales, stirrers and heaters and a store of relevant chemicals and media ingredients.
CRYO STORAGE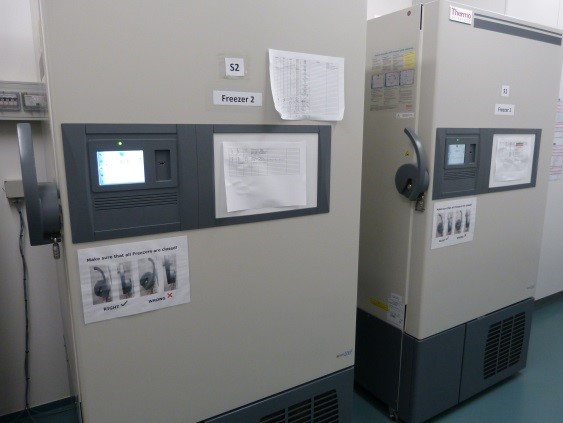 The cryo storage facility is used to store sensitive samples and cells at -80°C. The room hosts three -80°C Freezers, which are all connected to an online alarm system. The freezers are divided into S1 and S2 projects and one freezer is used as an emergency backup.
STORE
The in-house store provides the scientists with basic lab consumables, media and solutions. Scientists also can pick up enzymes and kits during the store time, as well as preordered media and solutions. Also basic safety equipment like lab coats, eye protection and gloves are provided by the store.
Opening hours:
Mon – Thu | 9.15 am – 9.45 am | 3.00 pm – 3.30 pm
Fri | 9.15 am – 9.45 am
MEETING ROOMS
The BMWZ has three seminar rooms, one for approx. 60 to 100 persons (with or without tables) and two smaller rooms (max. capacity 15 persons) in the first and second floor. All rooms are equipped with a beamer and boards, with white boards in the smaller seminar rooms.